From a young age Peter Cullen realised that football clubs have the power to do more than just win Premierships – they can save lives.
Hamish McLachlan
From kicking a football among the St. Kilda homeless community in 1990, Founder Peter Cullen AM has grown Reclink Australia into a national charity with a vision to improve the physical health, mental health, and social inclusion of all Australians experiencing disadvantage.
Ahead of tomorrow's Reclink Community Cup, the charity's renowned football and music fundraising event being held at Victoria Park, we spoke about his journey and the impact the organisation is continuing to have across the country.
HM: Did you ever think you'd use sport to change lives?
PC: Maybe! I always loved sport. From 12 years of age I had a great love of running. My brothers and I would run twice a day, once at 6am and again after school. I felt that I spent all my young life on a physical high from the running. All the kids in the neighbourhood would come to our place for sport.
HM: Did you always love football?
PC: I did, Hamish. I played junior football in the suburb of Norlane at the North Shore footy oval in Geelong, which were one of the lowest socio-economic pockets of Australia at the time. In a way that experience was an early connection for me to the disadvantaged. My family were regular attendees at the Cats home ground, Kardinia Park and we were Geelong supporters growing up. My childhood was blessed with memories of Geelong greats like 'Polly' Farmer, Billy Goggin and Doug Wade and wrangling my way into the rooms before and after games.
Reclink founder Peter Cullen with community footballers Eleisha Jones, Scott Jewett and Raeles Budge. Picture: David Caird
HM: That's a bit of a drive from Werribee for junior football?
PC: It was, but at the time there were actually no teams for people in my age group in Werribee, so my mother would take myself and my two brothers in the old family Volkswagen from Werribee to Geelong. When I attended games at Kardinia Park, I saw the Little League games and asked my parents if I could play. My Dad spotted the legendary Bob Davis coming down the steps from the Social Club at the end of a game and approached him on how I could get involved. Bob directed us to the local coach and that allowed me the opportunity to play soon after. It was life changing.
HM: What did you love about footy?
PC: Each time I found myself inside the change rooms it was just intoxicating, the atmosphere was incredible and I just felt this great sense of togetherness.
HM: Is that 'togetherness' what motivated you to start Reclink?
PC: In part, yes, I think. I started training to become a Catholic priest in the early 1980s and during the training we had heard a lot about social justice. I became tired of hearing about it, and I found myself busting to get out and do something. An opportunity came about for me to work in a street outreach program, and immediately I witnessed people not having access to family, work, sporting club support or anything positive, really. These people on the streets had come from trauma and would find more trauma. It was a hidden crisis of meaning, hope and opportunity. With time I saw sport as a great protector of the vulnerable and a way to have people feel a part of something. Reclink was born out of this need.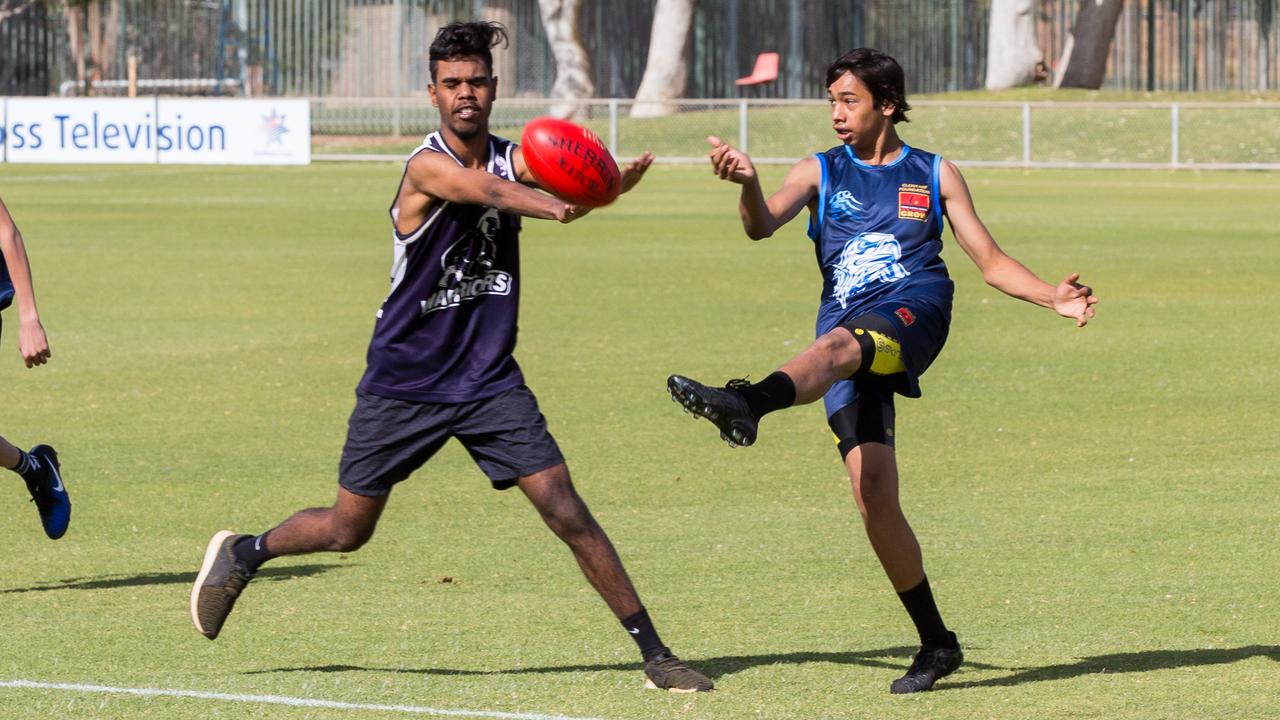 Caleb Franey from the Reclink Roos smothers a kick from Clontarf's Jai Harvey at Traeger Park Oval, Alice Springs. Picture: Emma Murray
HM: Was there a particular catalyst?
PC: I came across a homeless man early on in my outreach. He had schizophrenia and he was living down at the beach. He was living a really tough life. I took a bus load of street people down to the Malthouse Theatre one night and I asked him – "What are your goals for the future?" and he said, "Peter, I don't even know what to do with the present, never mind the future". That statement was grounding for me. I had to do something!
HM: What did you want to provide?
PC: Hope, I guess. People were seeking something immediately accessible. People who I spoke to at any depth in this environment generally had suicidal feelings. Suicides and overdoses were a constant conversation, and ambulances and police cars were always swirling around. It struck me that there was something missing in welfare, there was a lot that stopped people from drowning but not a lot that helped people to swim! If we could begin to get people involved in genuine quality opportunities, I felt it would improve their lives.
HM: Had your youth given you an insight into how tough things could be?
PC: It did. It showed me the power of what sport could do and – in my case, it was Australian rules – these joyful experiences had the ability to remind them of their better life memories. So initially I pulled out a football and said to a few of them, 'Let's meet for a kick.' That expanded to mini games, and then an informal Reclink Football League, which basically involved games comprised of players from homeless welfare agencies such as Ozanam House. Today it has 16 teams across Victoria which has a specialised role and mission.
Former Collingwood great Peter Daicos with Peter Cullen. Picture: Supplied
HM: How was it all funded?
PC: It scarcely was. It was a huge issue initially. For our early games, we basically borrowed used jumpers, used runners and footies from Glen Orden FC. At our first game, we went to toss the coin before the match started and no one had one! There were 40 of us there and you could have turned us all upside down and there wasn't a single cracker between the lot of us. One of the players piped up and said, "Surely someone has a food voucher!?"
HM: Amazing. Who played?
PC: Whoever needed a release and wanted a connection! One game day, I was so short of players I walked down Grey and Fitzroy streets in St Kilda, and we recruited half a team in the space of half an hour!
HM: So how did you make so many connections in the football industry?
PC: On the weekends, I used to volunteer at Footscray games at the Western Oval for 'Bulldogs Radio'. I was interested in trying my wares at some media and commentary work. I was able to rub shoulders with Tony Schibeci – the voice of the 'G – Harry Beitzel, Tommy Lahiff, Brian Taylor and Smokey Dawson, and Peter 'Crackers' Keenan, many of whom were great friends and allies. Harry Beitzel used to pick me up from where I was working at the front of the Sacred Heart Mission on a Saturday morning and take me to the games. He gave me a segment on his radio show each week to talk about Reclink. This was an awesome experience and I met so many people.
Paul Kelly singing at the annual Reclink Community Cup. Picture: Peter Monagle
HM: Who else did you need to thank for being involved early on?
PC: Mick Miller (ex-police commissioner) was fantastic, he was a big identity in Victoria at the time and was a great connector for me. He came down to our first Grand Final and saw us giving out chocolates as trophies, so he advocated for us to receive funding from the Australian Football Foundation. The next season we had huge excitement through the league as we got new uniforms, balls, umpires. He mentored me a lot and he was a very influential man who ended up being our first patron followed quickly by Allan Jeans. Former AFL operations manager was a coach as a young legal student and later also become a patron of Reclink.
HM: Some high-profile people were involved early on!
PC: Yes, and they were all very generous with their time at games too. The legendary Allan Jeans ended up going on to give pre-game speeches to multiple teams on many of our league grand final days, it was so special for so many. His oratory ability and homespun wisdom captivated everyone! The sporting industry has just been amazing Hamish. Over the years, we've had people like Ron Barassi, John Kennedy, Allan Jeans, Lou Richards, Kevin Sheedy, Tim Watson, Dermott Brereton, Doug Hawkins, Justin Madden, Simon Madden, Terry Daniher, David Rhys-Jones, Tom Hafey, Dennis Pagan, Stan Alves and Peter Knights involved in our Reclink grand final days, among countless others. All of them just magnificent people and so generous with their time and desire to help others.
HM: How do they get involved on game day?
PC: On grand final day, the players hear some of those all-time great AFL coaches give pre-match addresses, and they mix freely with star AFL players. Over the years we've enjoyed the attendance and support of countless political, sporting, media and religious figures. I often wonder how it feels for the participants to rub shoulders with AFL legends such as Dermott Brereton and to see them collecting the game ball from behind the goals. One player said "I used to watch Dermott and now he comes and watches me!".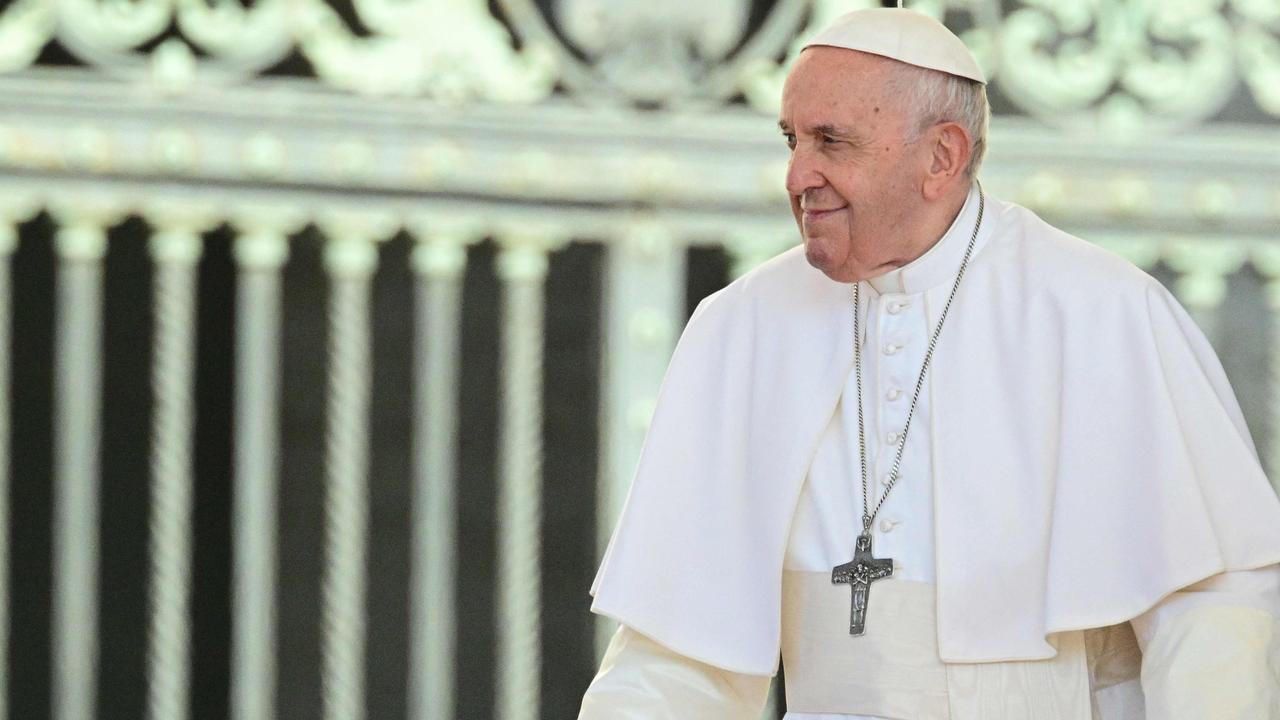 Mr Cullen missed out celebrating the Bulldogs' Premiership win because he was meeting with Pope Francis. Picture: AFP
HM: The Bulldogs have been a big part of Reclink – but you didn't see their GF win live?
PC: Ha! That is a funny story. I watched on TV but wasn't able to join in the celebrations because of a pre-organised meeting with the Pope.
HM: The Pope?
PC: Yes! The Pope held a worldwide conference, called 'Sport at the Service of Humanity', and I was personally invited to be one of only two Australian representatives to attend! People such as Reclink advocate Hayden Legro and others had begun advocating for me to be there. It was such a privilege to be there. I had always wanted to be among the Premiership celebrations in the streets of Footscray, but my flight out to the Vatican was on the night of the Bulldogs' Grand Final victory, so I ended up missing out as I had a more important date with the Pope.
HM: Understandable to meet with the Pope … the Reclink Grand Final Days – they are a big part of your year.
PC: They are. Our first grand final took place in 1991, only two years after the first kick-to-kick in St Kilda and was contested by the Sacred Heart Mission Saints and an indigenous team from the Bert Williams Hostel in Thornbury, who played in Collingwood jumpers. Now, the grand final day takes place over three days, with teams travelling from leagues all over Victoria to the Peanut Farm Oval in St Kilda.
HM: Any good tales from the day itself?
PC: Ahhh … one stands out. One of our participants, Michael, missed two consecutive grand finals due to game-day nerves and excessive drinking! It was heartbreaking, as he loved playing football, and it had helped him create friendships and support when he was pretty isolated. He was one of seventeen children, had a mild intellectual disability, and was a great character, loved by all.
HM: Did he ever get to play in the GF?
PC: In his third season, his team (the Sacred Heart Mission Saints) appointed a teammate (Johnny) to become his player mentor. They lived in the same boarding house, so Johnny was well placed to keep an eye on things. Johnny managed to keep Michael on track throughout the season, brought him to the grand final breakfast and then to the Peanut Farm Oval for the games. The Saints grand final was scheduled to play third on the day, so Johnny and the rest of the Sacred Heart team took their position on the boundary line to watch the first two games. Wouldn't you know it, Michael was missing!
HM: Did he miss again?
PC: No – suddenly he burst onto the ground in a Bulldogs jumper ready to play the first game, having somehow talked his way into the Bulldogs team. Not satisfied, Michael then talked his way into the second game, and finished up with a record three grand final medals, and making up for the two years he'd missed.
Father Bob Maguire with Peter Cullen. Picture: Supplied
HM: All players receive a medal on the day – it's symbolic?
PC: It is. They receive something for being a part of something. And often they go months with nothing. They get a gold for each winning team and silver for runners-up.
HM: Michael passed away?
PC: He did, sadly. A big crowd attended his funeral, including all his teammates and ex-Police Commissioner, Mick Miller. His ashes were scattered on the half forward flank at Peanut Farm Oval. His Mum attends the grand finals and claps every time the ball goes near where Michael now rests.
HM: That's a nice story. Paul Kelly has been a huge supporter?
PC: Huge. He's been involved at several of our biggest fundraising events. And in more recent times, the political support has been amazing. We had Anthony Albanese attend many of our Community Cups, including the most recent one in 2019. I think there's even footage of him 'skolling' a beer in the rooms of the Rockdogs a few years' back! He always seems to have a great time. And now he's Prime Minister of Australia, which is great to see.
HM: What do the players at Reclink get out of being involved in the sport?
PC: A player who suffered from drug addiction, said that "it was a clean rush, but it was real". Many people use their football team as a tool of recovery. The same player went on to give me some serious insights into drug and alcohol recovery by saying "they fall back into drug addiction because during a period of loneliness, they go back to associate with their old friends". This time though, through a Reclink team called the Salvo Hawks, he says he found a new place to belong and therefore was able to break that cycle.
HM: Isolation is an issue for many?
PC: Often people need to be around good people, and people need to be busy. One player lived in isolation in a bungalow and would make doctor's appointments just so he could connect with someone. He would jump if the phone rang as he never expected a call. I asked what he got out of Reclink football, and he simply said, "That people called me by name".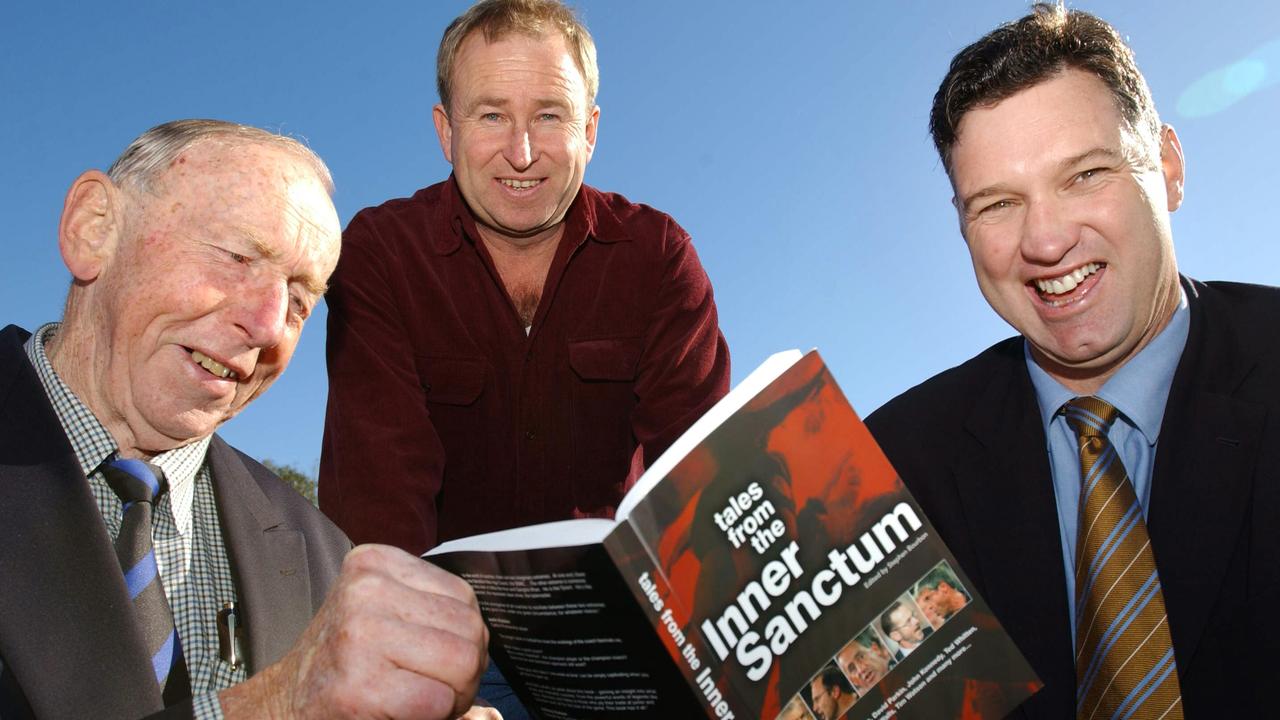 John Kennedy Senior, Peter Cullen and Justin Madden at the book launch of Tales from the Inner Sanctum at Junction Oval, St Kilda, in 2003.
HM: It's easy to forget how much people all around us are struggling.
PC: Too easy. We need to keep helping and providing avenues out of despair. A player we had struggling with mental health challenges turned up to the ground for training for a Reclink Football League team on five separate occasions, but could never get out of the car. On the fifth occasion he summoned up the courage to join in and then went from being a player, to assistant coach, a player mentor, and then being employed by Reclink. They just need to be immersed with good people and shown a way!
HM: I read a bumper sticker recently, essentially imploring empathy "Remember, 7 billion people experienced today differently".
PC: That's great. In my early days, I had a particularly bad day and I said to a homeless man one day, "I've had one of those days". As quick as a flash he said: "Peter, I've had one of those lives".
HM: You've had some current players, play in your football days.
PC: Marlion Pickett and Tim Kelly both played in our Reclink footy program in WA. Marlion won the best player award on Reclink grand final day and was recruited by South Fremantle after that performance.
One player, Mario, said to me that the Reclink grand final is his Christmas Day, because at that time he was disconnected from his family. Mario had a 20-year drug addiction, but then went on to complete a community development course and was a co-founder of what is now the Collingwood Reclink Footy team.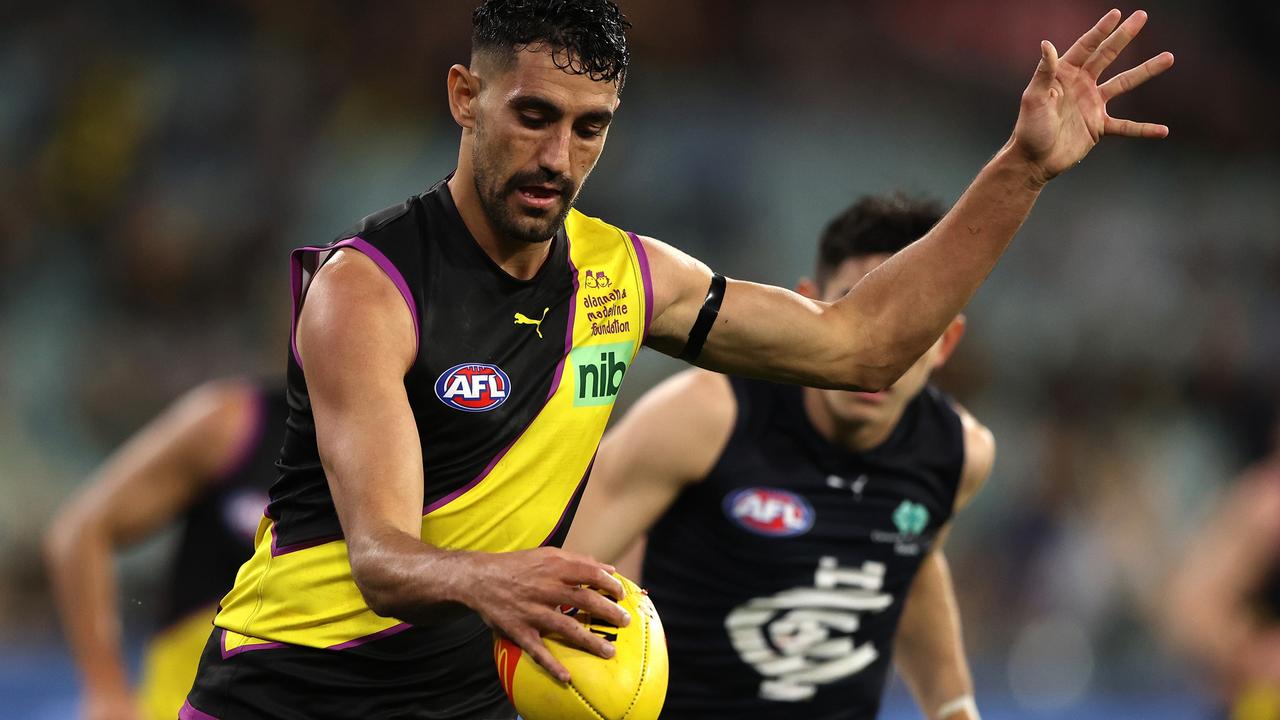 Tigers player Marlion Pickett won a best player award for his performance in a Reclink grand final. Picture: Getty Images
HM: Reclink obviously rely heavily on connecting people – how did you manage to navigate the Covid-19 challenge of the last few years?
PC: So many sections of the community have experienced isolation and during lockdowns had been trying to find methods to alleviate that – Reclink's mission for 30 years ago is now the national conversation – avoid isolation! The pandemic accentuated the importance of Reclink's work, which is focused on mental health, physical health and social inclusion.
HM: How did you keep people connected?
PC: We created a free online program – which still continues – called Reclink Connect. It is essentially a schedule of various physical activities broadcast via a Zoom link that anyone, anywhere in the world, can log on and participate in from the comfort of their home or office space, for free. Reclink Connect program was born in Covid out of the obvious need in the community to remain connected and give people a sense of belonging and purpose during what were challenging times.
HM: What is your Sports Share program?
PC: It's very simple. We gather donated sports equipment into our rent-free Werribee warehouse for distribution to the poorest pockets of Victoria, as sport and recreation equipment can be wasted and not used the same as food. Donated goods allows people the opportunity to get involved in sport without the barrier of cost. Reclink Sports Share packs are filled with a variety of sporting equipment and activities and are distributed to member agencies to share with participants in our communities. Our philosophy in this space is to ultimately provide the resources for anyone to be involved in their favourite sport or activity, regardless of their socio-economic status, or physical or mental health situation.
On one occasion, doing street outreach at a shop in north Werribee, I gave some sport equipment to a woman for her teenage children. I wrote the children's name on the ball, and I wrote 'you matter' and signed my name underneath. She immediately broke into tears at the words 'you matter'. If the sporting equipment and the sense of being considered and thought about can mean that then its purpose and mission is powerful.
HM: How many people do you assist each year?
PC: We're Australia's only multi-sport national not-for-profit organisation. We deliver 225,000 annual participation experiences, and even during the Covid-19 pandemic we connected with over 100,000 people across the country through our Reclink Connect initiative and other programs. We now have partnerships with over 500 welfare agencies across Australia as well.
HM: And today is the Community Cup. It's a fun day.
PC: The Reclink Community Cup has evolved to become one of the most well attended Aussie rules football games in the country. It's certainly the most colourful. In Melbourne, it attracts a crowd of between 12,000 and 14,000 people and has become an iconic cultural event. A celebration of music, football and community, it is Reclink's biggest fundraising event each year, all of which is put towards establishing further sports and arts programs for people experiencing disadvantage. You coming?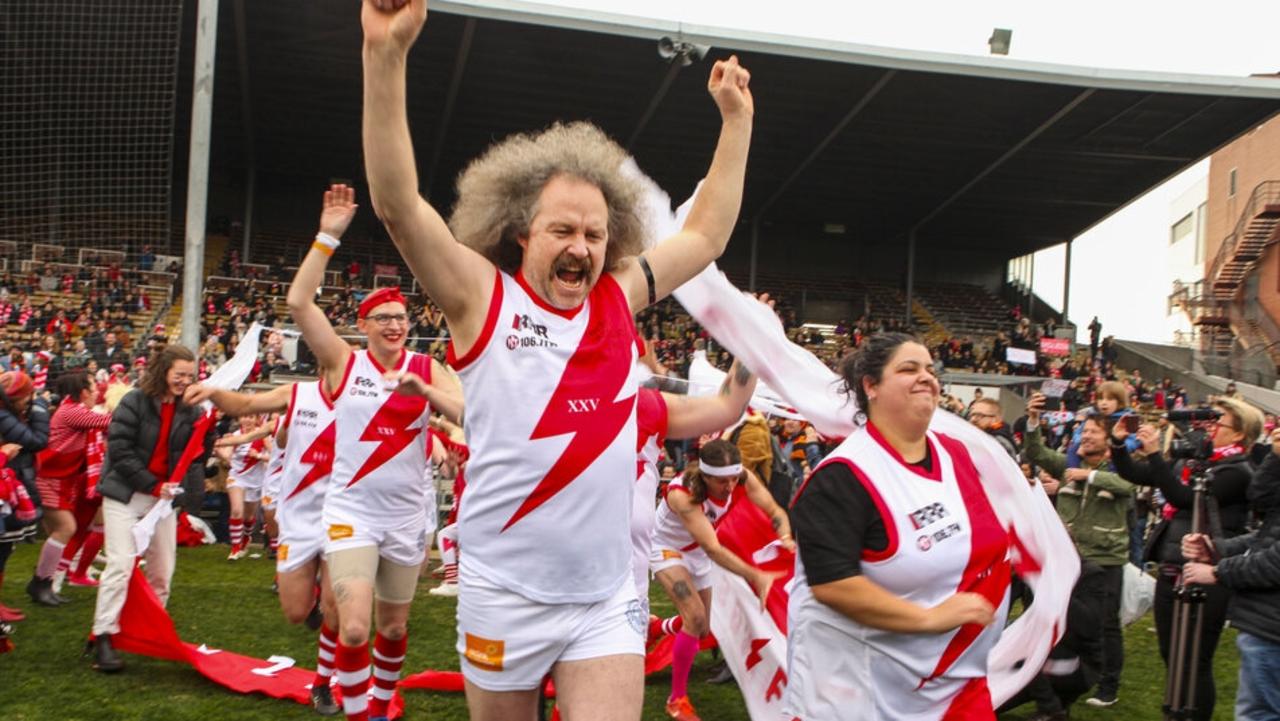 The Megahertz team run onto the ground for the Reclink Community Cup. Picture: Supplied
HM: Sadly, I'll be interstate. Who plays in the game?
PC: The first Community Cup was held in 1993. The Community Cup founder, Jason, went to the Peanut Farm oval in St Kilda one afternoon and asked if Sacred Heart's football team would play in a 'curtain raiser' and be the recipient charity, for a game of footy he was organising. The game was between local musicians (the Rock Dogs), and a combined community-radio team from 3RRR and 3PBS (the Megahertz). As a result, the Reclink Community Cup was born, and with the ongoing support of the music industry, we've been able to create Community Cups in virtually every State and Territory since. It's a special formula – music, footy and community. It works. It's fun. It helps people.
HM: It's important. Well done, and good luck today. our story would make a great book one day Peter.
PC: Thanks Hamish, it's certainly been a great journey. I'm writing a book – 'The Power of a Football'. You may not think that a football team can do more than win a Premiership, but it can, it can save a life. That is our experience at Reclink Australia.
The 2022 Reclink Australia Community Cup is happening today at Victoria Park in Abbotsford. For the full rundown of the day, and to book your ticket, head to www.communitycup.com.au
*Tickets subject to availability.
To learn more about Reclink, visit reclink.org
Printer-friendly version
PDF version