It was an action-packed day for everyone in attendance at the Reclink Australia Sports Share facility in Gerves Drive, Werribee on Monday 11th September, 2023.
As part of the weekly 'Community Monday' event hosted by Founder Peter Cullen AM, attendees enjoyed a range of activities that included the commencement of a Community Reflexology course, a special presentation by motivational speaker Charles Kovess, an appearance by North Melbourne FC superstar Nick Larkey; as well as Zumba, tai chi, multi-sport sessions and a free lunch thanks to long-time Reclink volunteer Dianne 'Zippy' Murphy (pictured, above).

Also among those enjoying the day's festivities were Shaun Bajada from the Australian Sporting Goods Association; Harrison Ward Councillor, Jasmine Hill, from the Wyndham City Council; and Reclink Australia CEO Dave Wells.
Lyn Fava from Perfect Harmony (pictured, below) was responsible for leading the commencement of the Community Reflexology course, which has been designed to cover 6 modules and run for 1.5 hours weekly across a period of 40 weeks that will eventually allow participants in attendance to achieve a qualification in Reflexology upon completion.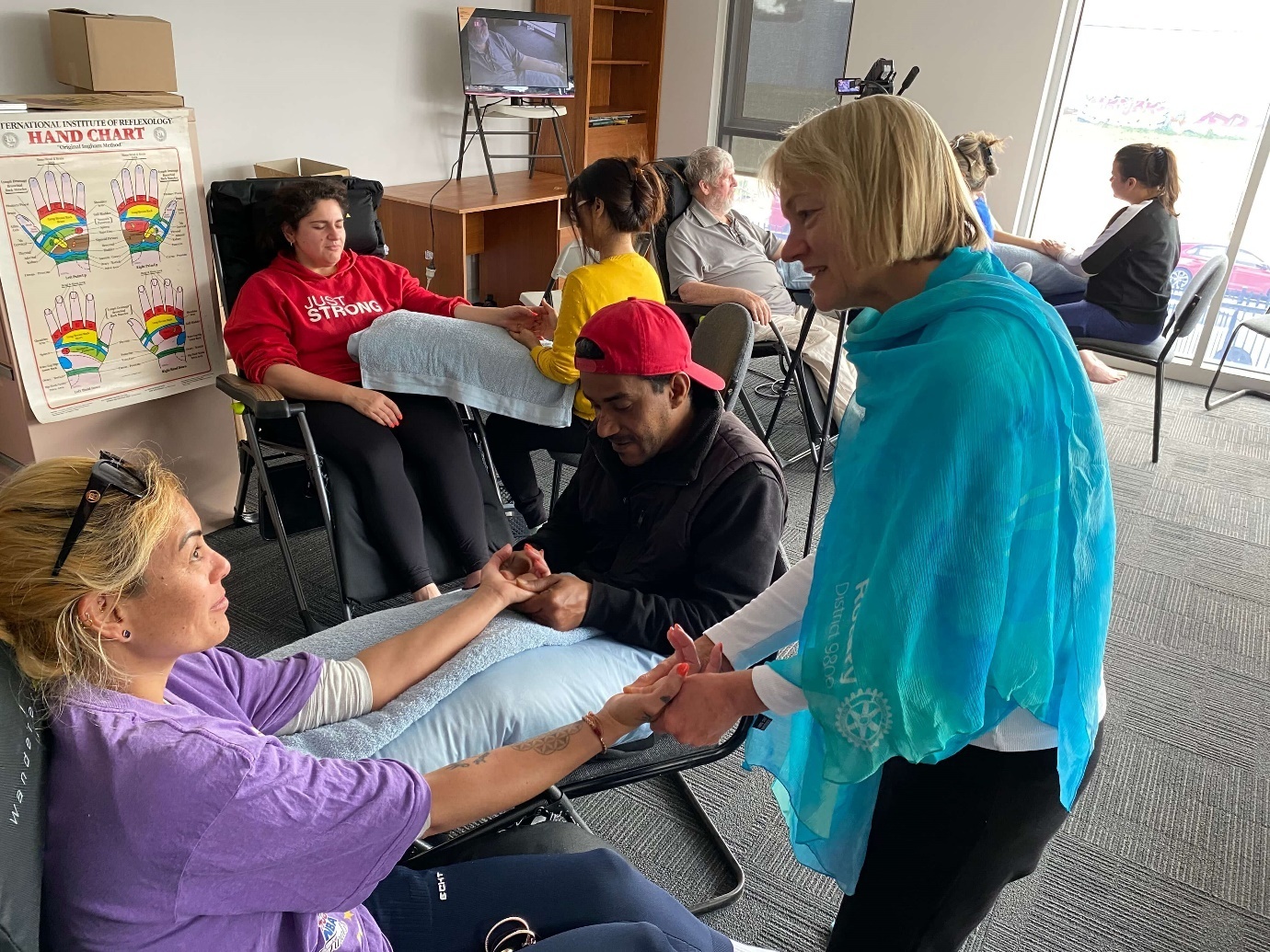 Sports Share participants enjoying the benefits of Reflexology
Lyn said that after initially offering hand reflexology to the Sports Share community, the well-being and self-help benefits were easily identified.
"Our community model presents an opportunity for participants to learn new skills and identify possible career pathways as they complete rehabilitation programs," she said.
"We include reflexology techniques from a variety of masters from around the world, as well as focussing on the unique gifts and talents of each individual participant."
The course is offered free of charge in conjunction with the Werribee Rotary Group and endorsed by the Reflexology Association of Australia.
Anyone with an interest to join the program at any stage should direct their enquiries to Lyn via email at: [email protected].
Reclink Australia were also delighted to welcome Shaun Bajada from the Australian Sporting Goods Association (pictured, below), who met with Peter Cullen, Dave Wells and Reclink Australia General Manager, Commercial & Fundraising, Marlene Cirillo to discuss opportunities surrounding the prospective donation of unwanted sporting goods and equipment to the Sports Share facility.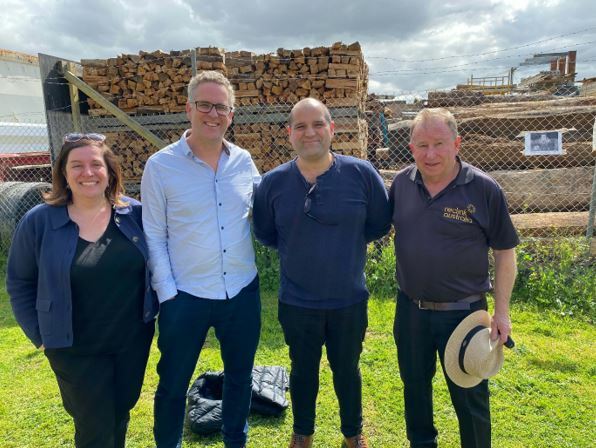 Pictured L-R: Marlene Cirillo, Dave Wells, Shaun Bajada and Peter Cullen
Cr Jasmine Hill is Wyndham City Council's Learning City portfolio holder, which aims to develop a better understanding of the diverse learning needs of residents in Wyndham and create learning environments that promote civic and social participation, fosters thinking and innovation, ensures equity and inclusion, and are localised and place based.
Nick Larkey, recently announced as a first-time selection in the AFL All Australian team, continued to emphasise his support of Reclink Australia with his second visit to Sports Share in as many months, adding to his recent attendance on Day 3 of the Reclink Victorian Football League Grand Final Series.
Long-time Reclink participant Gary, a member of the Cohealth Kangaroos Reclink Football Club and avid supporter of Larkey, was lucky enough to be presented with a pair of boots signed by the North Melbourne superstar goal kicker (pictured, below).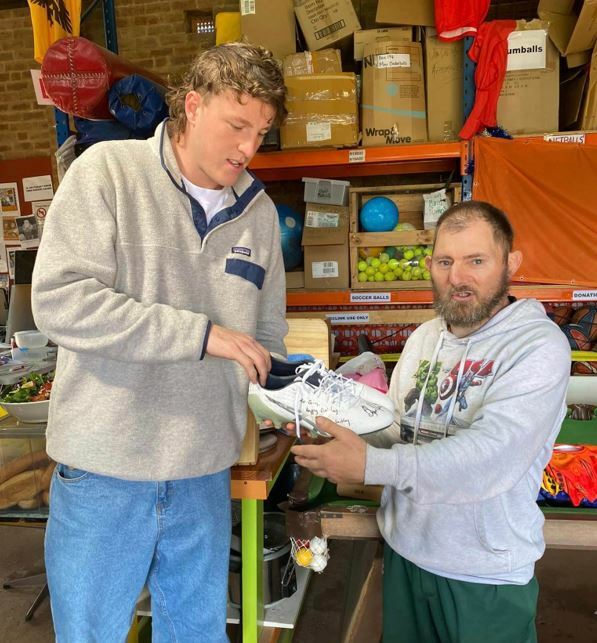 Pictured: Nick Larkey (North Melbourne Footballer) and Gary (Cohealth Kangaroos)
Another highlight of the day included attendees gathering to produce a short clip in support of the Werribee Football Club, a proud partner of Reclink Australia, ahead of their Victorian Football League Preliminary Final clash against the Brisbane Lions at Avalon Airport Oval this coming weekend.
Reclink Australia would like to thank everyone who came along, and for their ongoing generosity and support of our work.
Reclink Australia are always on the lookout for the donation of unwanted sporting goods, equipment and bikes that can susequently be distributed to our participants. If you are interested in getting involved at any time, please contact Peter Cullen via mobile: 0421 442 340.
We also acknowledge the support of The Inner West Community Bike Hub, who have partnered with the Reclink Australia Sports Share facility to repair bikes that can be re-used by the community.
For any further information about how individuals or member agencies can get involved in the fun of our weekly 'Community Monday' events, contact Peter Cullen.
Article/Images: Sam Wharton.
Cover image by Bruce Davis